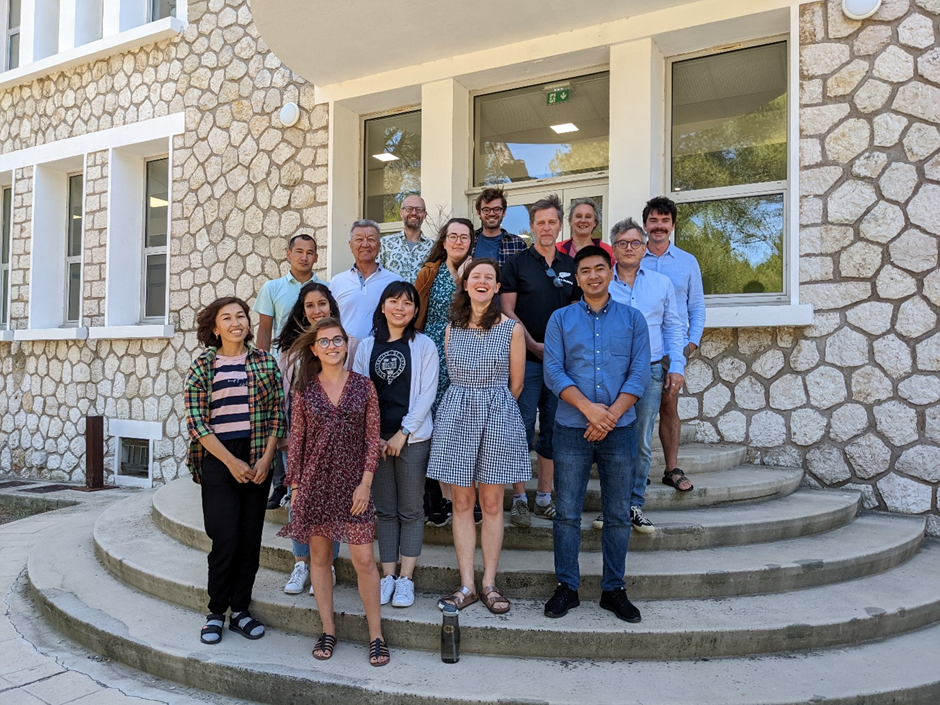 A number of earthquake specialists assembled in Aix-en-Provence for a four-day workshop hosted at CEREGE. The workshop is one of the flagship activities within the framework of the NATO SPS Multi-year project 'Geo-environmental security from earthquakes in Kazakhstan and Kyrgyzstan'. This project involves a consortium of researchers and specialists from Asia (Kazakhstan and Kyrgyzstan), from the USA, and from Europe (France, Germany, UK). We aim to develop the underpinning geological data that is required for building effective earthquake resilience, and to compile this data in open access formats that are accessible for researchers within the project focus area of central Asia. We combine that aim with the development of capacity through equipment purchases and through the training of early career researchers from both NATO and NATO partner countries.
He overall aim of the workshop was to go through the major sources of uncertainty in the journey from making field geological measurements through to the computation of hazard models. Each stage of the process was led by a different teacher, and combined explanatory lectures with small computational exercises. There were twenty participants with both young scientists and established academics represented from France, Kazakhstan, Kyrgyzstan and the UK. The meeting was organised by Magali Rizza, and kindly hosted by CEREGE and CNRS.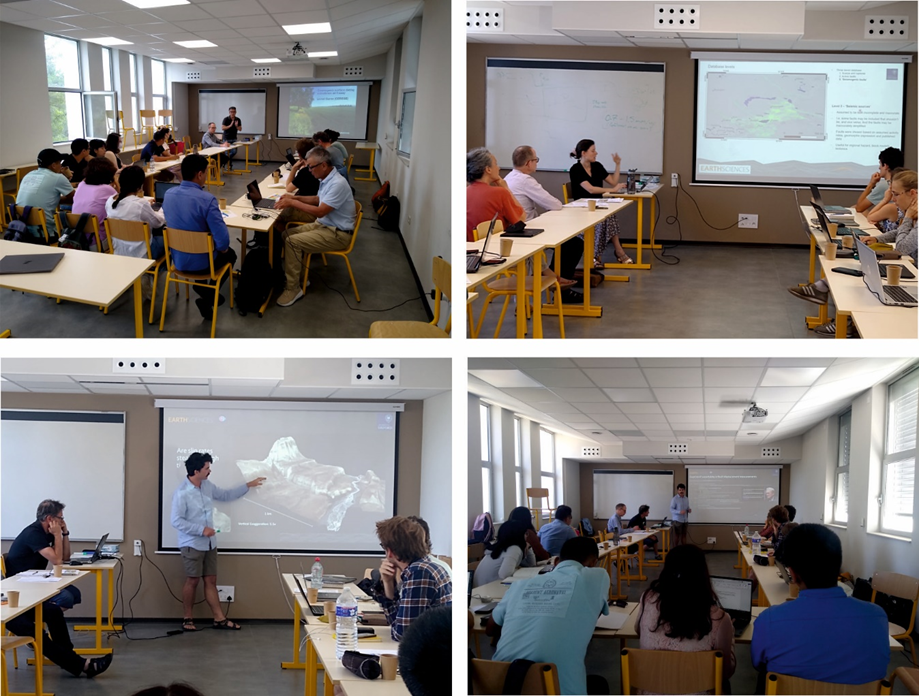 Sessions led by Lionel Siame, Tamarah King, Ian Pierce
The first day included an introduction by Magali Rizza (CEREGE, France) and Kanatbek Abdrakhmatov (Institute of Seismology, Kyrgyzstan) who described the aims of the workshop, and provided an overview of the NATO SPS work program. Roberta Wilkinson (Oxford, UK) then described work she has done in collaboration with Kazakh and Kyrgyz partners on the active faults and earthquakes close to Almaty, Kazakhstan, which was referred back to throughout the exercises as a test example. Ed Rhodes (University of Sheffield, UK) then led us through luminescence dating methods, and provided exercises to provide hands-on training in computing sample ages from the luminescence data.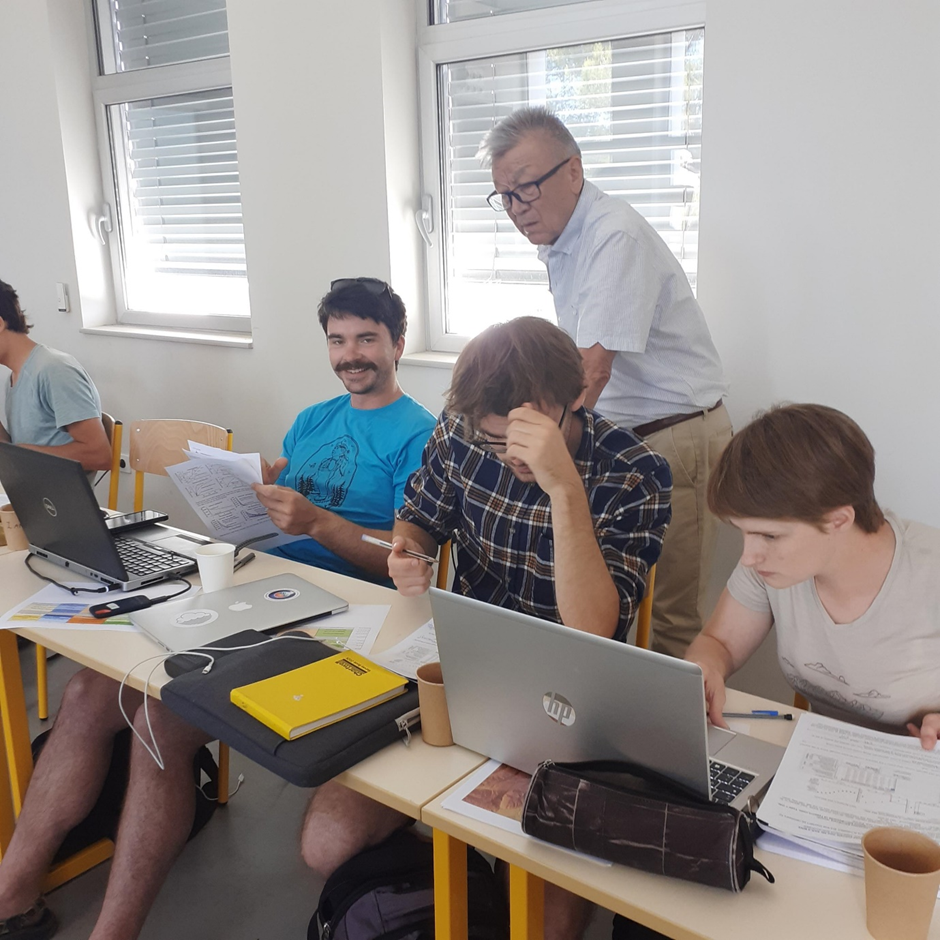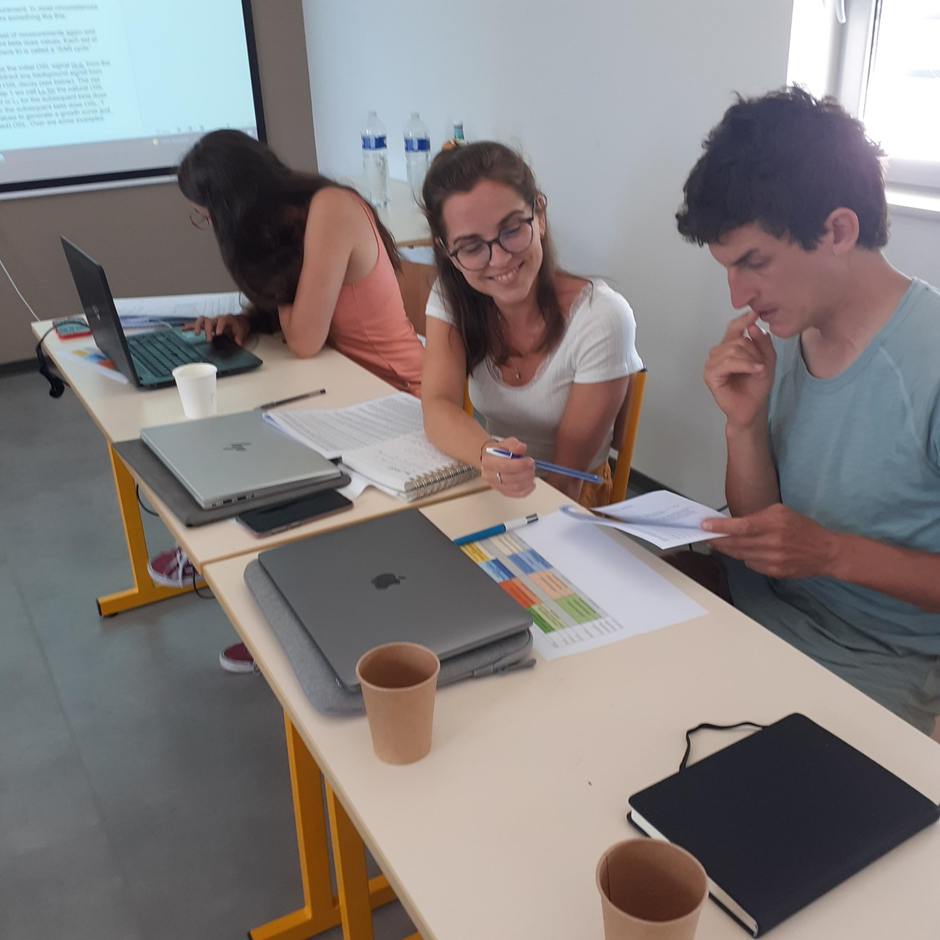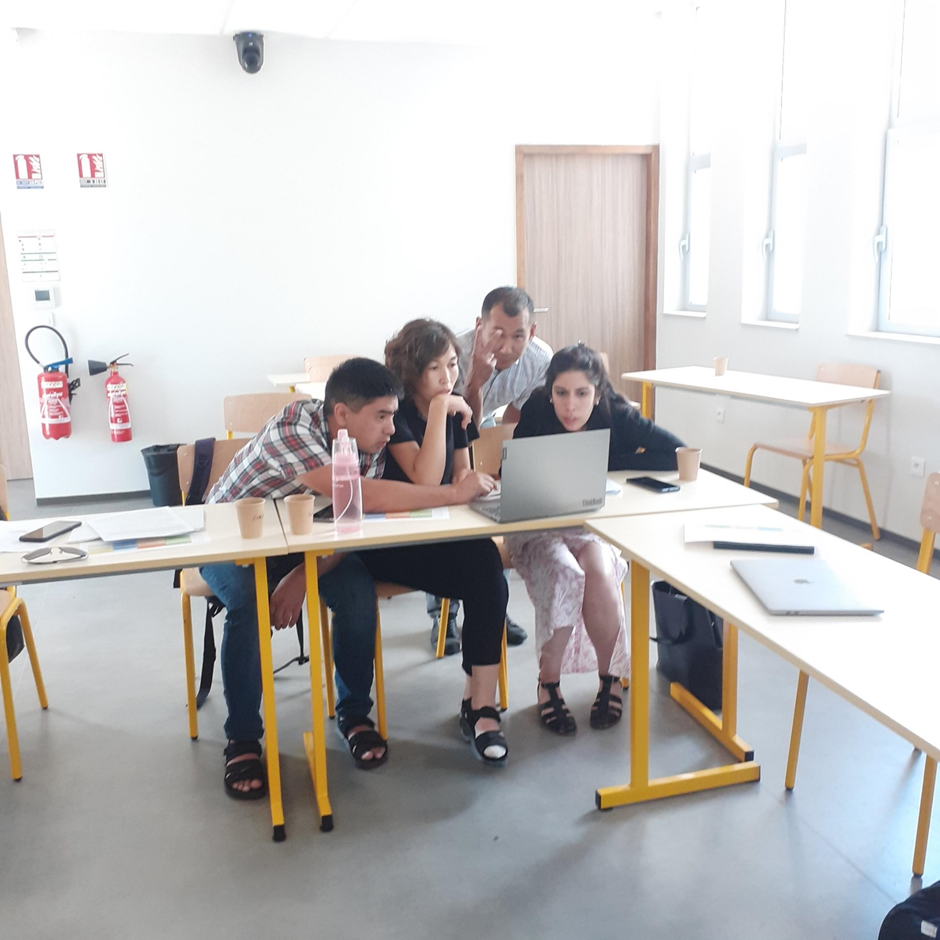 Day two was devoted to the use of cosmogenic isotope exposure dating. The lectures and exercises were led by Lionel Siame (CEREGE, France). Between the lectures and the exercises we took tours round the dating facilities at CEREGE, including the ASTER Accelerator Mass Spectrometer which is used for measuring cosmogenic isotope concentrations, and the luminescence laboratory.

On the third day we had a lecture on radiocarbon dating provided remotely by Ray Weldon (Oregon, USA), but also moved on to discuss the sources of uncertainty in site description and measurement, and in palaeoseismic trench interpretation (led by Stephane Baise, IRSN, France and Ian Pierce, Oxford, UK), and in building geological information as inputs into hazard models (Nick Harichhausen, Isterre, Grenoble, France). There was much discussion after these lectures in terms of developing best practise workflows.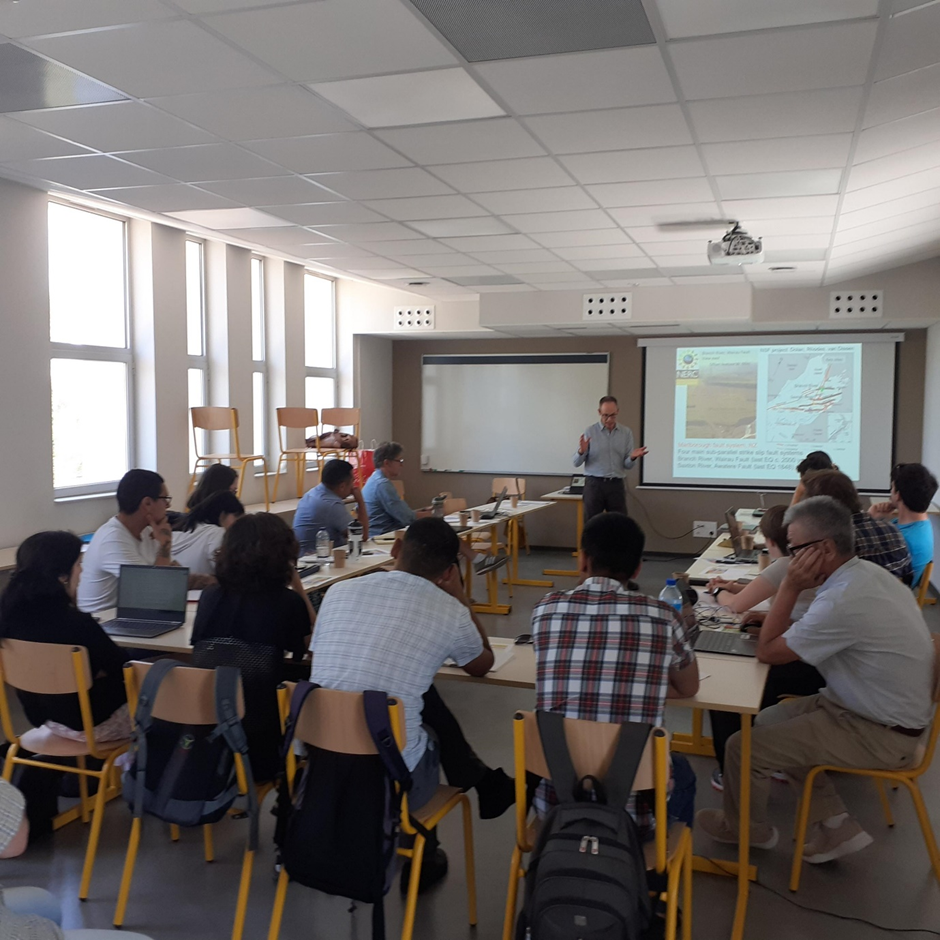 Ed Rhodes leading a discussion about the use of luminescnece dating
Day four moved us on to a description of fault mapping, and the different needs, uses, and workflows required by different end user groups (Tamarah King, Oxford, UK). We then addressed the final topic of how we can use geological information in the construction of hazard models. Oona Scotti (IRSN, France) gave us an overview of how hazard models are computed, before leading us through hands on exercises using the SHERIF code, which is designed as a tool to allow geologists to input data into hazard models.
The workshop was valuable both for the students and the established researchers, with a lot of opportunity for discussion and the development of ideas. Discussion was facilitated by the excellent catered lunches and continued into the evenings on return to Aix-en-Provence town. We were able to talk at length between the project staff, students, invited specialists, and with scientists from IRSN who are one of our project end-user groups. We have a busy fieldwork schedule ahead of us and took the opportunity to plan all of the logistics required, and also began to discuss the next steps for active fault and earthquake research in the natural laboratory of central Asia.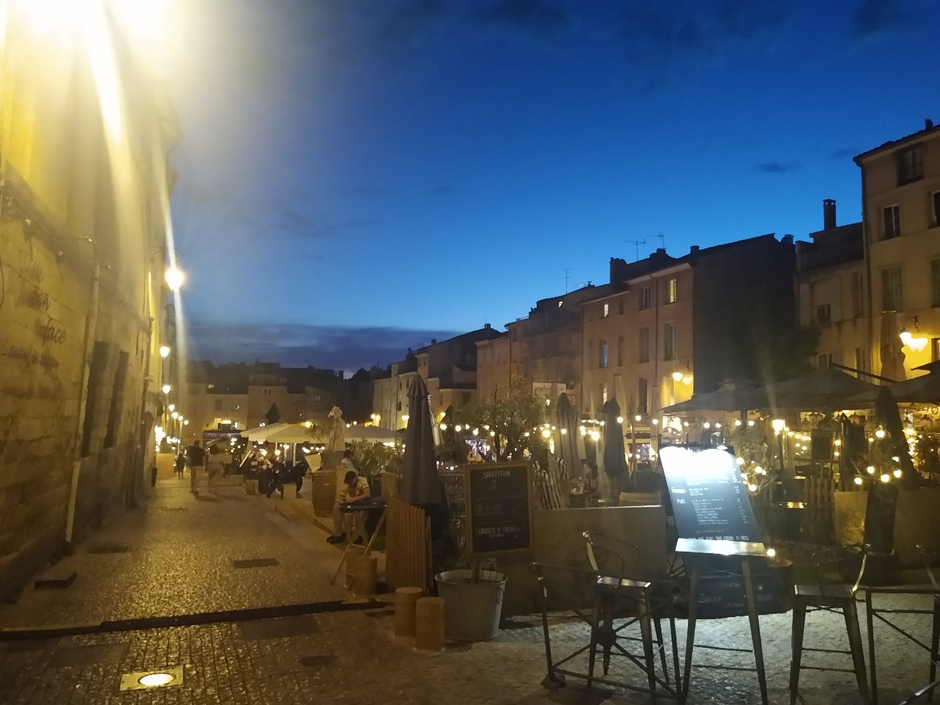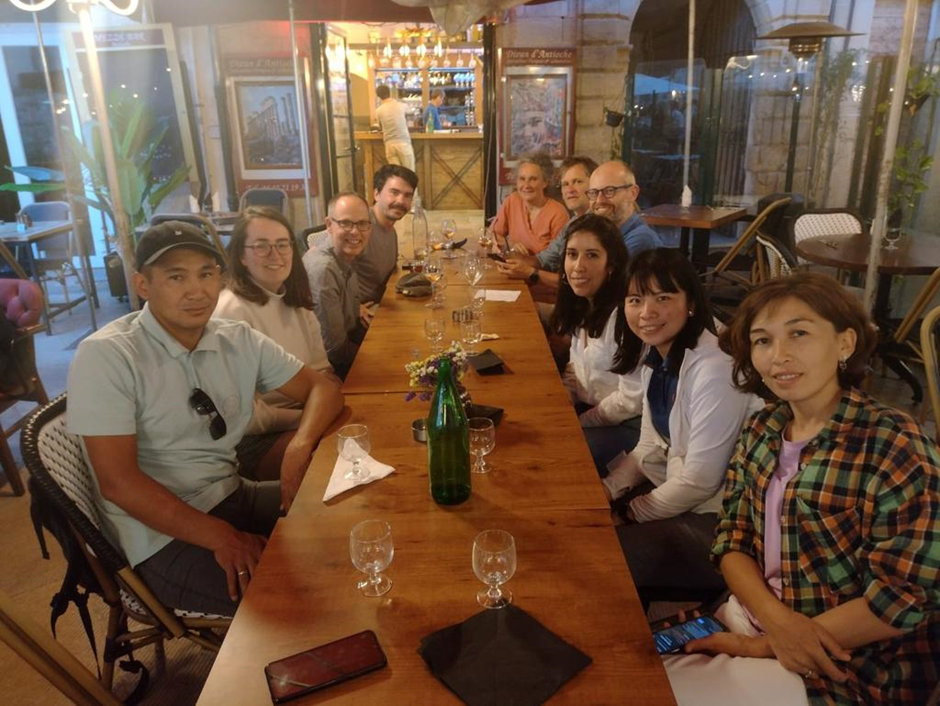 Learning the steps involved in analysis of data is of course important, but to collect that data we need to be in the field to learn the basics of site description, palaeo-seismic trenching, and sample collection. These skills will be covered in a field workshop in the Tien Shan in July 2022. A number of the group will also meet again in a few weeks for a workshop co-organised with project end-user group GEM (the Global Earthquake Model) and COMET (Centre for the Observation and Modelling of Earthquakes, volcanoes, and tectonics).
We are very grateful to Magali Rizza for all her efforts in setting up a really fantastic workshop. We also express our thanks to Roberta Wilkinson, Ed Rhodes, Lionel Siame, Ray Weldon, Stephane Baize, Nick Harichhausen, Ian Pierce, Tamarah King, and Oona Scotti, who all took considerable time to design workshop modules and exercises. Their hard work contributed significantly to the success of the meeting. We thank CEREGE for their hosting us, Stephane and Oona for their support through the French Nuclear Safety Institute (IRSN), and NATO SPS for their support of our work through multi-year project G5690.